Steel Pile News
New version 3.5.0.0 of RRPileCalc has been released
December 13, 2021 7:44 CET 6 min read
Design tool for SSAB steel piles – RRPileCalc – has been updated. New version 3.5.0.0 is now available for downloads.
Several updates

SSAB is constantly developing and updating RRPileCalc. RRPileCalc is used to calculate the design resistances of SSAB steel piles.
Latest version 3.5.0.0 has for example following updates:

- Program shows now CO2 emissions of steel material for steel pile and possible inner pipe. The initial values for calculations are taken from EPD for SSAB steel piles.

- Calculation of requirements for PDA tests has been added also to calculations according to Norwegian norms.

- Fabrication tolerance class of RR and RD micropiles has been set to level A in local buckling calculations.

- Automatic start of Advanced FEM calculation has been removed. Now calculation starts only from the Calculate button.

- New mechanically attached rock shoes for RR270 and RR320 pile sizes are now considered and message on rock shoe resistance will not appear anymore with these pile sizes.

- With Finnish norms the Rc;d value didn't update every time when pile size was changed. This is no fixed.

- Stress-strain graph of steel materials has been revised to be more clear and informatics.

- Used fyd and Tau_d values are shown in Results tab. Now also effect of local buckling is considered in the fyd value.

- Some bugs with graph print outs have been fixed.

- Several other fixes, which can be seen from ReadMe.txt file of the program.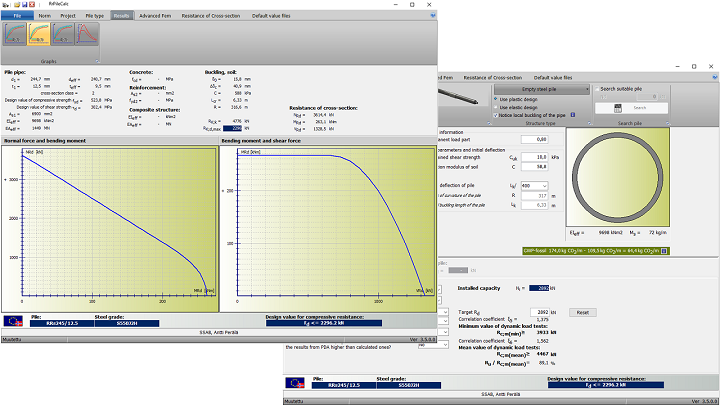 Download

SSAB's design tools for Infrastructure products are free and can be downloaded from https://www.ssab.com/products/steel-categories/infrastructure/infrastructure-design-tools.

More information on Designer tools