Articles
Weight-loss wagons – Duro Dakovic
February 22, 2017 15:37 CET 6 min read
Croatia's Duro Dakovic is getting ready to launch a new railway wagon for transporting cement. The latest Uacns model – made with SSAB's Domex 460 MCE – is already said to be one of the lightest wagons of its kind on the market and one of the quickest and easiest to load and discharge.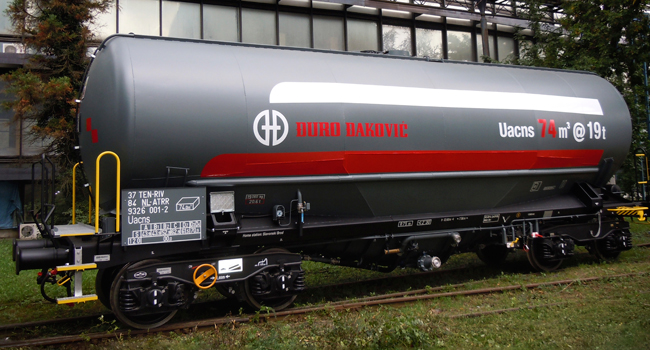 Duro Dakovic's new 74-cubic-meter Uacns tank wagon has been tested at several cement manufacturers and users' plants across Europe. So far, during the test phase, reduced operational costs for customers have been proven. The first batch of Uacns wagons were delivered to a customer in France in October 2016. Several parts of the new wagon are made from SSAB's Domex 460 MCE steel.

"We believe it is currently the best steel tank wagon for cement transport on the market because it is tailor-made and optimized," says Josip Bucic, Sales and Project Management Manager for Duro Dakovic, a mechanical engineering graduate who has worked for the company since 1984.

"Because of the optimal ratio between the loading volume – 74 cubic meters – and wagon tare weight [weight of the empty wagon] of 19 tons, there is a very short discharge time and minimum level of residual cement after emptying the wagon," says Bucic. "This means lower operational costs during the loading and discharging of the wagon as well as lower maintenance costs."

When you think of Croatia, the production of railway wagons might not be the first thing that springs to mind. Yet, with a history spanning almost 100 years (it produced its first railway wagon in the 1920s) Duro Dakovic has been scaling up its production and increasing its export business since 2006.

Business really took off in 2003 when the company was asked to produce approximately 1,300 different types of wagons as part of the Croatian government's strategy to modernize its railway fleet. Three years later, Duro Dakovic began exporting to other European countries, and today it exports 100 percent of its production. Since 2007, the company has also been producing and exporting armored battle vehicles which are the second main product in its product portfolio.

In line with its ambitious export strategy, Duro Dakovic realized it needed to invest in new talent and the latest technology to ensure its wagons are of the highest quality possible, meeting tight EU regulations. "We invested in highly productive equipment for laser and plasma cutting, automated robotized lines for welding, and painting and drying chambers," explains Bucic.

Duro Dakovic doesn't take any shortcuts when selecting the materials used it its production.

"When we are choosing materials and equipment for our wagons, we follow the '5L' guidelines – low noise, lightweight, long running, logistics capable and low-cost country (LCC)-oriented. By using materials with increased strength and higher abrasion resistance we can make our wagons lighter and increase their lifespan," he adds.

The relationship with SSAB dates back to 2002, around the same time that Duro Dakovic began to expand. "SSAB could deliver everything we needed – a good balance between quality and price, meet our delivery time requirements and also provide us with important technical support when we are choosing optimal materials for new projects," says Bucic.

About Duro Dakovic
Duro Dakovic Special Vehicles (DDSV) is part of Duro Dakovic Holding, a major metal manufacturing group. DDSV employs 450 people and is headquartered in Slavonski Brod, Croatia. The company was founded in 1921 and was the first factory for producing railway wagons, machines and bridges in Southeastern Europe. Today, it produces vehicles for the transport and military/defense industries and is the most important railway freight wagon manufacturer in the region. All wagons are customized according to customer requirements and sold across Europe.

SSAB steel in Duro Dakovic's products
SSAB supplies Duro Dakovic with a wide variety of steels for use in the production of its railway freight wagons and armored battle vehicles. For the current production of these products, DDSV uses Hardox 450, S355J2W, Optim 550W, Armox 440, Domex 460 MCE, Strenx 700.

By Alannah Eames
Photo: Duro Dakovic

This article has been published on SSAB World magazine's issue 2/2016.