Articles
Cutting edge with Fiskars' WoodXpert felling lever
July 04, 2016 12:20 CEST 6 min read
Fiskars' new WoodXpert Felling Lever is said to be one of the strongest tree felling levers in the world. This breakthrough was possible thanks to the use of customized lightweight steel tubes from SSAB.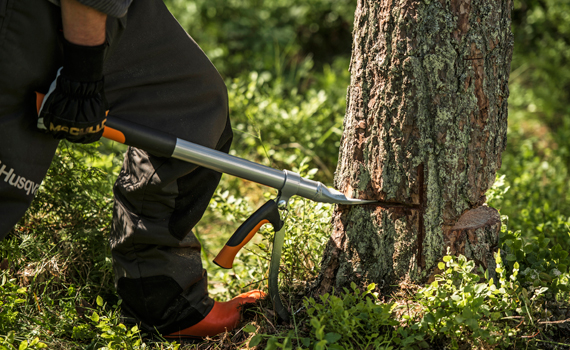 Fiskars may be Finland's oldest company – and some of its bestselling products may be hundreds of years old – but it never stops improving its products.
"At Fiskars we believe that even the simplest things can be made better and smarter," says Markku Pietiläinen, Sourcing Manager, who purchases the company's raw materials and components.
"For example, take our 'old' Fiskars spade from the 1960s – it might look the same as the new one that you could buy today, but the old one is around 30% heavier. New materials mean we can make our products lighter and stronger, and this is better for the user."
Fiskars' relationship with SSAB is a long one dating back to the 1960s. As Fiskars' sales and manufacturing have become more global, Pietiläinen says SSAB is the perfect example of a top-quality supplier that can offer a global service for all of Fiskars' factories.
Fiskars' Wood Xpert Felling Lever, aunched in 2015 and acknowledged as one of the strongest products of its kind in the world, is just one example of the strong collaboration between the two companies. The lever is used to bring a tree down safely but also to section logs for transportation. Improvements on its predecessor include a detachable log hook, a revised comfortable SoftGrip handle and a lightweight tubular steel construction to make it easier – and lighter – for the user to handle.
"This product was only possible thanks to the joint collaboration with SSAB," says Pietiläinen. "We needed a 1,400 grade, a new kind of steel from SSAB with a special shape. Our R&D guys in Finland worked very closely with SSAB to create these steel tubes with a unique design and material."
Like many other Nordic companies, Fiskars has a reputation for producing functional, long-lasting products. That's why they need top quality and take no risks with their suppliers.
"SSAB has very strong steel and has been a key partner for us in ensuring that we create lasting and functional products. The quality is very consistent with almost zero quality claims," says Pietiläinen.
SSAB's global network has also been a major plus for Fiskars, according to Pietiläinen. "Our factory in Slupsk, Poland, which produces garden tools, always tells me that SSAB is their favorite supplier as they are so reliable. They can't find enough good things to say about SSAB."
Fiskars wants to replicate this way of working at its other factories, such as its site in Oslo, Norway. "SSAB's CEO and top managers visited our factory in Oslo. That was really nice. It makes us feel like they make time for us even if they have thousands of other customers," says Pietiläinen.
Although Fiskars' products already are tougher and weigh less, there's still room for continuous improvement. "SSAB is developing lighter and stronger materials, exactly what we want for our products. We're moving in this direction and this is something we can do together with SSAB," he concludes.
About Fiskars
Founded in 1649 as an ironworks in a small Finnish village, Fiskars is Finland's oldest company and produces products for the home, garden and outdoors. Its products are renowned worldwide for their functionality and cutting-edge design. Its most famous brands are Fiskars, Iittala, Royal Copenhagen, and Gerber. Fiskars employs 8,600 people in 30 countries and had net sales of EUR 768 million in 2014. It is listed on the Nasdaq Helsinki Stock Exchange. More information at www.fiskarsgroup.com.
Fiskars WoodXpert Felling Lever
Fiskars' new tree felling lever was launched in 2015. It is used for felling medium-sized trees and can also be used as a support for sawing and carrying logs. The blade drop is made from forged hardened steel and the shaft is made from lightweight special steel. All the boron steel used in the product comes from SSAB, which customized the material in collaboration with Fiskars' product development team. The WoodXpert Felling Lever won a Red Dot product design award in 2015. Fiskars also buys Docol 500, steel tubes and boron steel sheets from SSAB for other products.
Text: Alannah Eames
Photo: Fiskars
This article has been published on SSAB World magazine's issue 1/2016.
Find the whole magazine in PDF format.