Does your equipment require greater resistance to wear and tear? Look for Hardox® 500. Hardox® 500 is a bendable and weldable wear-resistant steel with a nominal hardness of 500 HBW.

Hardox® 500 increases the payload and service life of your equipment, while maintaining good machinability and durability.

Watch this short webinar, where our steel expert will explain how you can save on maintenance costs with Hardox® 500!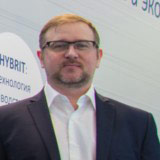 Speaker
Mikhail Sergeev
Regional Technical Manager at SSAB