Articles, Other news
Aesthetic architecture
March 14, 2018 11:00 CET 6 min read
GreenCoat and SSAB Weathering can both be used as cladding for façades to cover all or parts of buildings. GreenCoat, currently the greenest color-coated steel on the market, can be found in award-winning architecture and is also made for roofs, rainwater systems and indoor solutions. SSAB Weathering is often used in art installations due to its unique look.
GreenCoat is a comprehensive range of color-coated steel products for the building industry. One major benefit is the pioneering Bio-based Technology (BT) coating found on most GreenCoat products – apatented solution that uses Swedish rapeseed oil instead of traditional fossil oils. The result is a high-quality, sustainable coating that resists corrosion, UV radiation and scratches, and is hand-formable down to -15°C. The GreenCoat portfolio includes a wide variety of products and a seemingly endless range of colors.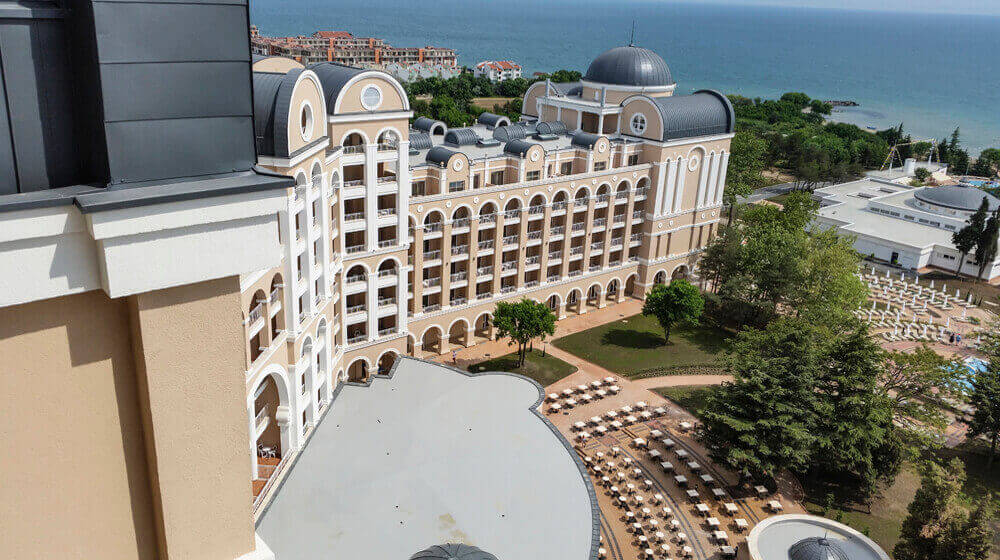 SSAB Weathering offers significant architectural benefits as the surface does not require any anti-rust treatment before use. Instead, it develops a patina, a kind of hard surface that serves as a protective coating and prevents rust. The surface does not need to be painted at all, but if it is, it will withstand scratches and other wear due to the patina that forms as soon as the surface is open to wet or dry cycles. SSAB Weathering comes in different strengths, creating a variety of different opportunities for architects.

However, the principal benefit is the patina and the opportunity to save time, money and the environment by painting less, or not at all.

Club-Hotel Riu Helios Paradise in Bulgaria is an example of how GreenCoat combines aesthetics and functionality in architecture. To convey elegance and luxury, the architects designed a series of ambitious curved and dome-shaped roofs, but needed a suitable roofing material that could easily be formed and would retain its color and appearance over time. GreenCoat PLX Pro BT, a top-class metal roofer product, was chosen due to its formability, durability, low weight and resistance to aggressive UV influences, as well as its environmental advantages.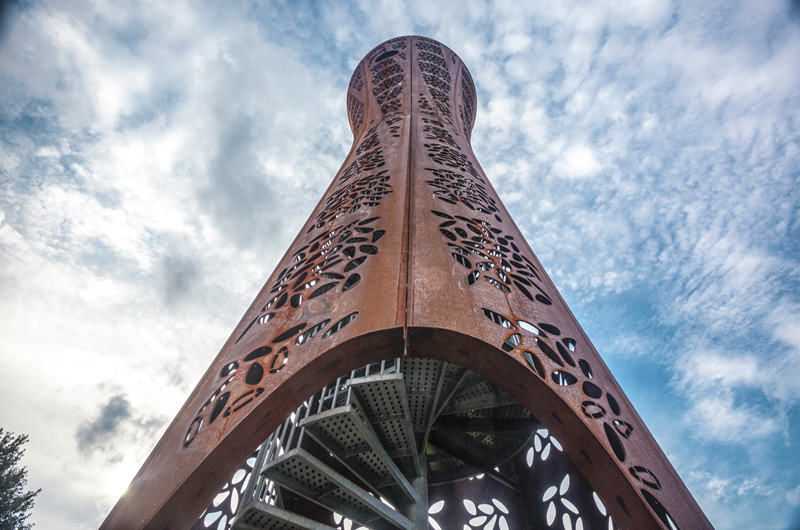 An example of the versatile use of SSAB Weathering in architecture is Weusthagpark Watchtower in The Netherlands. Ever since a new highway split the Weusthag natural park in Hengelo in two, architects had been looking for a way to create a visual connection between the two halves. The solution needed to melt into the surroundings and have both a cultural and recreational function.

The winning project, designed by a local architect and a steel construction company, is a 22-meter-high watchtower made from COR-TEN weathering steel. The shell is made from thin steel sheets, with leaf-shaped perforations and peepholes to create transparency. A special technique was used to double-fold the material to improve stiffness and provide a more artistic appearance. The tower is popular with photographers and visitors who enjoy the climb to the top and the astonishing views.

By Isabelle Kliger