Articles, Steel Pile News
Environmental product declaration for SSAB's tubular products is now registered in EPD-Norway's program
September 06, 2016 16:53 CEST 6 min read
SSAB's EPD for piles, structural hollow sections, precision tubes, line pipes and steel sections are now published in the EPD-Norway, Norwegian EPD program for products (EPD = Environmental Product Declaration). An EPD gives information about a product's environmental issues and environmental impacts.
EPDs are based on international and European standards ISO 14025 and EN ISO 15804, which determine the requirements for the EPD content. Declarations are verified by an approved independent verifier and further approved by the Norwegian EPD Foundation.
Further information and the EPD can be downloaded from SSAB's website: www.ssab.no/infra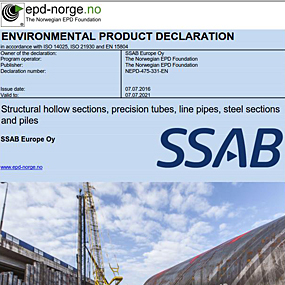 SSAB participated at the Pile day 2016 event in Oslo
SSAB participated at the Peledagen, Pile day, 2016 event in Oslo, Norway on the 1st of September. SSAB's infrastructure construction products were presented at a stand, where also recently verified EPD-Norway for SSAB's Tubular products was introduced.
"This event attracts contractors and designers and therefore it is a good place to also introduce our recent registration to EPD-Norway. Visitors on our stand considered it important that we are registered in EPD-Norway, because life-cycle environmental impacts of our products are now easily available," says Jan Andreassen, Business manager at SSAB.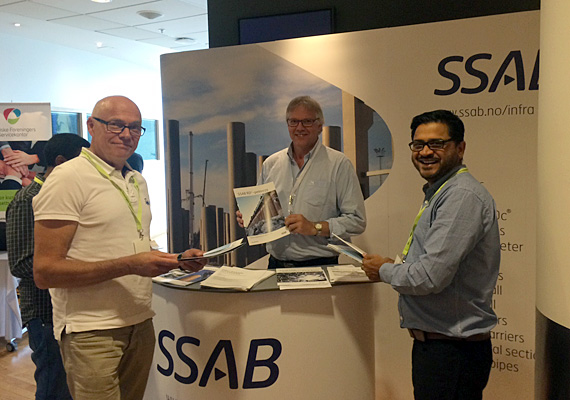 SSAB's Jan Andereassen (center) presented infrastructure construction products at the Peledagen 2016 event held by the Norwegian Geotechnical Society in Oslo, Norway.
More information from: Jan Andreassen Phone: +47 922 27 119 e-mail: [email protected]