Customer case
Champion Hoist revolutionizes scissor lifts with weight-saving design using Strenx® performance steel
November 08, 2019 6 min read

Case details
Industry
Trailers and body builders
Brand program
My Inner Strenx®
US based Champion Hoist and Equipment takes the checkered flag with an efficient, first-to-market scissor lift designed to feature Strenx® high performance steel manufactured by SSAB. Champion's lighter model not only delivers high yield strength to manage the heaviest loads, but also maintains structural integrity, while reducing overall gross vehicle weight by nearly a quarter ton.
For many fleet managers and commercial truck owners, gross vehicle weight determines the class that their trucks may legally operate. The heavier the truck, the higher the class and the more restrictions are applied. Champion's customers like the North Carolina Department of Transportation benefit significantly from a lighter class for shorter hauls using less fuel, and heavier loads are easily lifted without all the extra weight.
Stronger, yet lighter scissor, helps customers lift their business
Strenx
®
100 XF is a thermomechanically rolled steel made for cold forming with a minimum yield strength of 689 MPa (100 ksi), or one thousand pounds per square inch. It's called high performance steel because it means that applications can be both stronger and lighter. Creative engineers can challenge the design envelope because it's made to meet specific guarantees for thickness, flatness and impact properties. Champion saw that by redesigning their scissor lifts, they could create a thinner, stronger and lighter model to give customers a true advantage.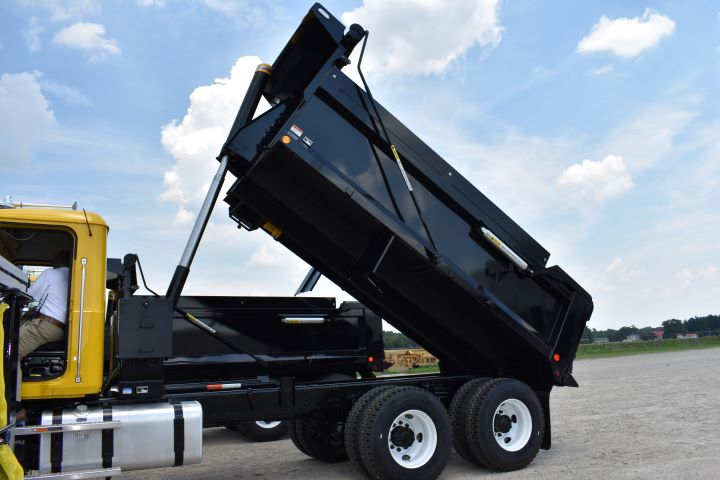 Case details
Industry
Trailers and body builders
Brand program
My Inner Strenx®