Customer case
Bay-Lynx solidifies cutting-edge design for lighter, smarter volumetric mixer
April 06, 2022 6 min read
Case details
Company
Bay-Lynx Manufacturing, Inc.
Industry
Yellow goods and construction
Brand program
Hardox® In My Body
Why tinker with what works? Continuous improvement delivers to mixer operators all the benefits of a more efficient, safer and longer lasting vehicle.
Bay-Lynx design engineers knew a lighter, truly modern and more efficient mixer would give their customers a cutting-edge solution. After an aggressive revamp of a proven-yet-outdated design, the Titan is born. The Canadian concrete mixer manufacturer drives innovation across key markets in the United Kingdom and North America with advanced high strength steels.
The mobile concrete mixer first introduced in 1964 operated essentially like a concrete production plant on wheels. This mixer style quickly filled a market gap for flexible short-run concrete supply. However, the original design using mild steel with multiple structural stiffeners made it tall and heavy with many welds that would tend to crack, then rust and require frequent repairs. Fifty years later, these and other efficiency factors made it a perfect time for Bay-Lynx to launch a market-leading upgrade. The improvements mean owners can enjoy a 200% stronger mixer that is 7% lighter, allowing higher payloads, less fuel consumption and lower maintenance costs.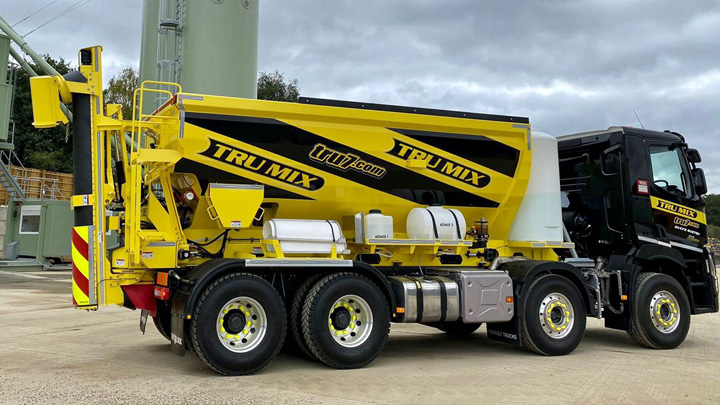 Titan volumetric concrete mixer is 7% lighter than a mild steel version using advanced high strength steels.
Case details
Company
Bay-Lynx Manufacturing, Inc.
Industry
Yellow goods and construction
Brand program
Hardox® In My Body