Câu chuyện khách hàng
Rơ-moóc tự đổ mới của Mantella được thiết kế để tăng tuổi thọ và tiết kiệm chi phí
Tháng Mười 28, 2020 6 min read

Chi tiết câu chuyện
Ngành
Rơ-moóc và chế tạo thùng xe
Brand program
Hardox® In My Body
Nhà sản xuất thiết bị gốc rơ-moóc một cầu Mantella đã nâng thiết kế rơ-moóc của mình lên một đẳng cấp vượt trội với loại thép Hardox® mới, Hardox® 500 Tuf. Công ty đã thực hiện những nâng cấp lớn trong thiết kế bằng cách sử dụng thép cường độ cao do SSAB sản xuất. Kết quả là, họ đã cách mạng hóa thiết kế của thùng xe kéo tự đổ Stratosphere tiên tiến và thấy được lợi nhuận tăng vọt.
510 kilos less weight in the tipper trailer chassis and body
The combined weight reduction of using abrasion-resistant Hardox® 500 Tuf in the body and Strenx® 960 in the chassis is 510 kg (1,124 lbs.) compared to the previous design. This translates to an increased payload of 510 kg (1,124 lbs.) on every trip. And higher load capacity is what practically every customer is looking for. The new trailer design won the international Swedish Steel Prize 2018.
Mantella's tipper trailer is more than 500 kg (1,102 lbs.) lighter than a conventional design. The U-shaped body in Hardox® 500 Tuf weighs 365 kg (805 lbs.) less and the chassis in Strenx® 960 is 145 kg (320 lbs.) lighter. The horizontal bends increase the stiffness of the body, preventing buckling when tipping.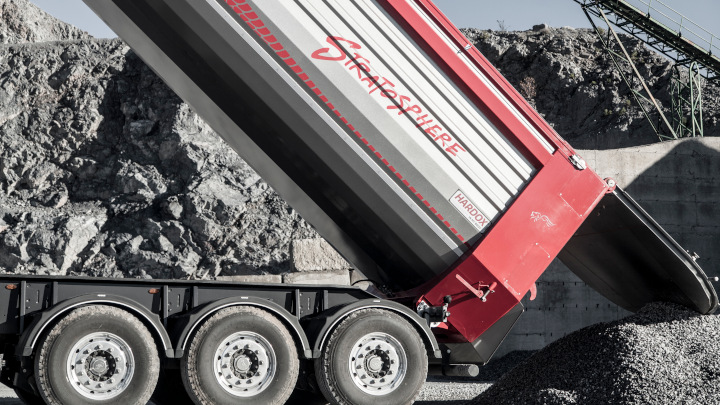 Chi tiết câu chuyện
Ngành
Rơ-moóc và chế tạo thùng xe
Brand program
Hardox® In My Body