客户案例
Roller containers from Winfa weigh less yet outperform with Hardox® steel
2021年9月27日 6 分钟阅读

"When a product is made from Hardox, it outperforms the competition." That's why spare parts and container producer Winfa chooses Hardox® 450 over S355 steel in its heavy-duty containers.
Delivering 2-3 times more abrasion resistance than S355 steel, weight savings of 400 kilos (882 lbs.), and annual fuel savings of 350 liters (92 gallons), Hardox® 450 steel provides Winfa's roller containers with performance and savings that are hard to beat. The company, a leading Slovakian spare-parts producer, also appreciates the design improvements they could make to their heavy-duty containers to make them lighter, tougher and more durable than when using a thicker gauge of S355 steel.
"SSAB's steels enable our customers to cut fuel consumption, due to the weight reduction that comes from the use of thinner materials, without having to compromise on strength, hardness or safety," says Milos Vinš, Winfa's owner. "And lower fuel consumption also means less money spent on fuel," he adds.
Trust in quality, gains in roller container service life
Founded in 1996 as a retailer for special abrasion-resistant high-performance steels, Winfa has evolved over the years into a manufacturer of spare parts for construction, loading, recycling and lifting machinery. The company also makes its own line of roller containers for scrap metal and other abrasive materials that cause major wear and tear.
For over 20 years, Winfa has used different steel products from SSAB across its product line. Here are some reasons why:
"The advantage of Hardox® wear plate is that it elevates the quality of the final product, while guaranteeing a longer product lifetime, as well as delivering economic advantages to our end customers in the long run,"
Vinš says.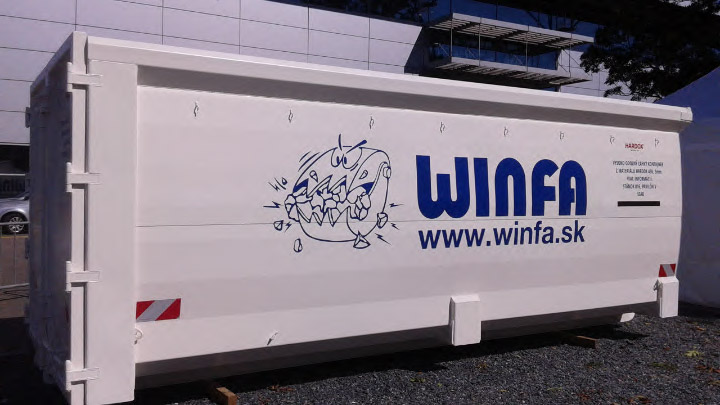 Winfa roller containers deliver 2-3 times more abrasion resistance than comparable ones in thicker gauges of S355 steel.